IMMOTIN
| | |
| --- | --- |
| | |
| | Powerful Immunomodulator |
| | |
RENOLITH
| | |
| --- | --- |
| | |
| | No More Blocks |
| | |
TESTIMONIALS
"BELIVER is good product for liver diseases. I have tried in 40 to 50 patients. Although it is Ayurvedic product but having good future for

chronic liver diseases."
- Dr. Sunil S.Popat

"This is to express my satisfaction for the result my patient has achieved after taking Capsule Aphroda for last 2 and half months. He

has improved his libido and marginal improvement in sperm motility also. "
- Dr. Harita D. ShahRead More...
CHAIRMAN'S DESK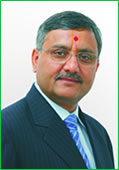 Mr. Dhirajlal Kotadia
CEO and Chairman
Sahajanand Group Of Companies was founded by Mr. Dhirajlal Kotadia in the year 1993, with the aim to provide hi-tech solutions to solve problems posed by age old gem stone processing methods. This pioneering
vision has helped carve a special niche for Indian Diamond industry in the world arena today. Sahajanand diversified its activities with its foray into the medical devices field and took the opportunity to become India's first and the largest manufacturer of cardiovascular Stents. Sahajanand Group's third arm Sahajanand Life Sciences Pvt. Ltd. is engaged in the field of Biotechnology research and manufacturing of evidence based healthcare Supplements.